As mentioned in our last post, Halloween is one of our favorite times of year.
Sadly, we are swamped this year so we're not able to do the full-on Halloween decorating that we usually love to do. This year it's going to be some pumpkins and a wreath on the door. Sounds boring? Check these images out:
image courtesy of Country Living magazine
I love to decorate with pumpkins, gourds and basically any type of squash. The shapes and colors are so perfectly imperfect.
image courtesy of http://goodhousekeeping.com
image courtesy of countryliving.com
My favorite: Cinderella pumpkins
Wreaths are a great way to show that you are in the spirit of the season, with minimal effort.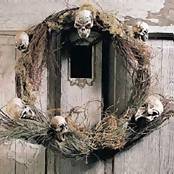 www.zedomax.com
martha stewart
The queen of all things Halloween, Martha Stewart, has a great website that has pumpkin and wreath projects galore. Country Living Magazine also has a wonderful website with some interesting projects.
If you're swamped like us, but still love the idea of decorating your home for Halloween, hire us! We will come out, provide the decor and will even come back to clean it up.